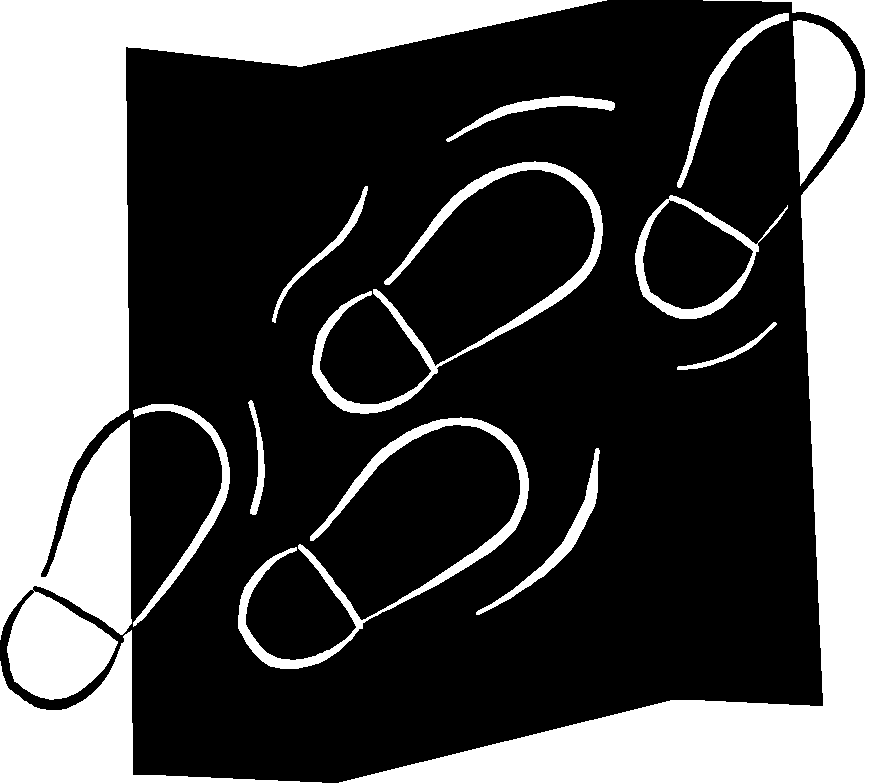 One Small Step for Dancerkind
| | |
| --- | --- |
| Newsletter of the Friendly FolkDancers | Vol. 5, No. 1 Fall 1997 |
---

At the 1997 FFD annual meeting, Sandra Helpsmeet suggested that the FFD offer to lead an evening plenary session for the 1998 FGC gathering to be held at River Falls, Wisconsin. With the enthusiastic support of all present, Sandra Helpsmeet agreed to prepare a proposal and supporting material for the program committee, and Lyn Egolf, who just happens to sit on the committee, agreed to convey it to them. The committee met the first weekend in October, and the joyous news is WE'RE ON FOR WEDNESDAY, JULY 1, 1998.

Because of the limitations of the facilities at River Falls, there will actually be three concurrent plenary sessions in different locations across the campus. In addition to the performance & program, Sandra Helpsmeet has proposed that we prepare a display, much as is done by other Quaker organizations at the Gathering. To offer help, ideas, and energy, you may contact Sandra directly (2550 Gregerson Drive, Eau Claire, Wisconsin 54703, phone 715-874-6646,.email helpsmeet@usa.net) or fill in the appropriate area of the tour interest form. In any case, be in Wisconsin for the FGC Gathering, June 27 - July 4th, 1998.

In related news, there are other members of the FFD serving on other planning bodies of FGC, helping with organizational aspects of setting up the gathering. In particular, we are fortunate to have some insiders who are helping with room/space allocation. They (I think Demi is one of them) have already looked the place over, and figured out the like spots. Indications are good for a better than average space for folk dancing this year!

The nightly folk dance program will most likely continue in the pattern established the past couple of years. For instance, this past summer, Sunday & Friday were folk dance potlucks, with some emphasis on Israeli dances, Monday was Demi's choice, Tuesday Eric Wolff led beginning and intermediate swing dances, Wednesday was a special serving of the Dances of Universal Peace, lead by David Dalley and accompanied by live music. On Thursday Louise Brill was our teacher.
The River Falls gathering will almost certainly feature live folk dance music on at least one evening. If you have musical or dancing skills to share, please get the knowledge to Mark Helpsmeet and make this coming FGC gathering a tapestry of FFD ministry and gifts.

---

Our new official email address is ffd@infinitejoy.com. We can automatically redirect email sent to this address to any FFD member who is willing to receive and sort through FDD mail. Currently it is forwarded to Mark Helpsmeet.

Our web site address has changed to www.infinitejoy.com/ffd. Visitors to the old address will see a message directing them to the new address. Our site is also accessible through the Quaker Organizations list at www.quaker.org.

If you have a new email address, please let us know!
---

Of the 20,000 Friends in Europe, all but 2,000 are in Britain Yearly Meeting. So the FFD aim of reaching out to small groups and isolated individuals among Friends will have a chance to be realized in full measure, when the May 1998 Europe Tour travels to France, Belgium, Holland and Germany. Our first base will be Le Chene Et Le Roiseau, a peace and ecology centre in the countryside east of Paris, run by an English Friend, Libby Perkins, who has dual membership in Britain and France Yearly Meetings. Our route will take us across territory that has seen bitter fighting in the two World Wars, through fertile valleys, rolling hills and into at least two capital cities.

We have a minute from France YM, welcoming our approach to them and inviting us to visit in May. Libby Perkins, as well as hosting us for our rehearsal/orientation period, is continuing to look for a suitable place for us to perform. She has just given us news of a nearby Mennonite school for children with special needs, whose director is delighted to have found a local Quaker in Libby and keen for us to visit one of his two schools. We have made contact with several Friends in Brussels, where there is a lot of interest. As soon as we know whether to put Netherlands YM into the schedule we will begin firming up dates and locations in Brussels. Other possibilities still are Brittany - rather far, but a region of keen dancers and a Friend who would love to host us - and Dusseldorf and/or Cologne.

This tour is the first to have a coordinator from outside the US. Elizabeth Cave is full of enthusiasm, encouraged by some very warm responses from Friends and meetings in mainland Europe, and confident of continuing moral and technical support from across the Atlantic. Demi Miller is doing choreography and Elisabeth Monsma costumes. If you would like to be considered for a place on this tour, please return the tour interest form soon. Exact dates will fall between 5 and 20 May.
---

Freshly enriched by the celebration of her wedding to Christopher Penney, Jane Blount eagerly invites a number of Friendly FolkDancers to come out to California for a tour over as yet un-FFD-danced-upon areas of the state of California. Jane helped organize a tour traversing the southern portion of the state in 1996 which was warmly received, and has been eagerly awaiting an opportunity to continue the exploration of the area once some of her other time and organizational energy was freed up. The time has come. Jane, Ellen Brooks, and Mark Helpsmeet will be organizing the tour, beginning Thursday, February 5th a ending Sunday, February 15th. There will be the usual mix of energy and enthusiasm, but, for those hailing from the northern, icy climes, there will be a dividend in terms of thermal energy. We'll attempt to continue the FFD "missionary" work in the central region of the State, "prancing what we preach" there, searching for that of God in the souls and soles we meet on the west coast.
---

The peregrinations and ministry of the FFD has traversed a number of states, yearly meetings, countries, and even continents. 1999 should see one more continent added to the dust under our dancing shoes. Due to the two year posting of Zig and Rosemary to Honolulu Friends Meetinghouse (see News of Our Dancing Friends), the time seemed propitious for a tour down under, and the idea of a February, 1999 New Zealand tour was endorsed at the recent FFD annual meeting. Initial contacts and discussions have begun with Friends from New Zealand, and all indications are that way will open, accompanied by the open arms of Friends in New Zealand. Zig is the designated coordinator for the tour, although there are some among us who wonder what exactly will be the division of tour coordination responsibilities within the Dermer/Coffey household. Though plans are still in the most initial stages, one alternative calls for using Hawaii as our staging area, to be followed by flights to New Zealand. Though we are still in the preliminary stages, anyone interested or with helpful input may contact Zig through email at rkczld@aol.com

NYM Executive Committee/Madison Meeting

---

Depending on when you happen to read this newsletter, the FFD performance & report to the NYM Executive Committee and to Madison Monthly Meeting may already be history. NYM clerk Marion Van Dellen, in addition to trying to find space in the schedule for reports of the many groups supported by Northern Yearly Meeting, is attempting to include bits of lightness and energy to the participants. With that in mind, she invited the FFD to report to NYM in the form of dance as part of our report.

NYM has been a great source of energy and support for the Friendly FolkDancers ever since its inception in 1986. Although the membership of the FFD is scattered across the USA and even to other countries, its greatest concentration has been within NYM. The tradition of folk dancing at NYM (as well as song) has been extensive and long-standing, perhaps in greater concentration than other yearly meetings. This may stem, in part, from the origins of NYM as a quarterly/half-yearly group, where there was almost no business, but lots of fellowship. In any case, the FFD has received rivers of support from NYM - in the form of dancers, money, enthusiasm and prayers. In particular, much of the global outreach which we've been able to carry out has been due primarily to the generous yearly financial contributions to us from NYM.

As our report to NYM, we will be presenting our program, only slightly abbreviated, and somewhat modified to include more report elements within our presentation, on Saturday, November 1st, 1997 at the Madison Meetinghouse (Wisconsin). Members of the NYM executive committee will be present, and an invitation has gone out to members and friends of Madison Meeting.

Highlights of the 1997 FFD Annual Meeting

---

We held our 8th (or maybe only 7th) FFD Yearly Meeting on 8/2/97 at the home of Mark & Sandra Helpsmeet. There were 11 members of the FFD present, and Zig & Rosemary joined in our discussions for a few minutes by phone. Energy was good, and we emerged from the session with a wealth of plans and directions.

On the other hand, one of the reasons that energy may have been so high was due to the effort we conserved over the previous year. Though we had originally planned a tour to Indiana in 1997, none materialized. There was a combination of limited time and energy for coordinating the tour, and a paucity of dancers available for the tour. Though a tour to the area is still being explored, there are, as of yet, no concrete dates or coordinators selected. This did mean, however, that 1997 was the first year since 1986 when at least one full scale tour by the FFD did not take place, and 7 of the intervening years included 2 full tours. We did have one mini-tour over the course of the year, to Scattergood Friends School and Dubuque Friends Meeting. The turnout for this event was great, and Sophie Del la Mar (formerly known as Marian Wisby) did a great job of organizing, assisted by Sandra Helpsmeet.

Other programs sponsored by the FFD over the year included the nightly dancing at the FGC gathering, and live music and folk dancing at the Northern Yearly Meeting session in June.

Progress was made on the tour coordinator's resource notebook, but a couple pieces are yet to be completed. Sharon Bell is continuing her work on the tape library. She has one set of tapes for about 40-50 dances available for use in FFD programs. Our intent is to build a central, group-owned collection of the dances we perform and lead, instead of depending on the private collections of participants.

The energy available for future tours was impressive. In addition to the possibility of an Indiana tour sometime in the future, the following firm decisions tour and program plans were made:
1. Jane Blount, along with Ellen Brooks and Mark Helpsmeet, will organize a tour to Central California in Jan/Feb 1998

2. Elizabeth Cave, Demi Miller, & Elisabeth Monsma will set up a Spring, 1998 tour to Mainland Europe.

3. Zig Dermer will be organizing a February 1999 tour to New Zealand.

4. The 1998 FGC will be showered by FFD energy - a plenary session, a display on the FFD, as well as nitely dancing
We also discussed, but did not definitively commit to, some mini-tours. Elisabeth Monsma expressed interest in co-coordinating another tour to Scattergood in March/April of 1998. Other possible mini-tours discussed included Chicago, Minneapolis, and perhaps a non-Quaker church setting.

We discussed, with great enthusiasm, some plans for enhancing the FFD Web Page. Preston Henke (email prestonhenke@usa.net) is the web-master, and ideas and contributions should be channeled to him.

Finances and the budget were discussed. Money was set aside to continue encouraging a Kenyan participant in future FFD tours, as well as seed money for the 1999 New Zealand tour. Of the $4,718.59 in the account, we budgeted $2,550, and planned income of $2,070.

Steering committee appointments were as follows: Ellen Brooks, Zig Dermer, & Joseph Kieltyka will continue for the coming year. Elisabeth Monsma & Mark Helpsmeet were appointed to 2-year terms. Mark will serve as clerk, with Ellen & Elisabeth will serve as co-coordinating clerks. Denise Madland, though not on the steering committee, will take over as treasurer from Demi Miller.

We discussed a number of other concerns on which we did not reach definitive conclusions. Valuable sharing focused on outreach, scholarships, and the Quaker quest game.

---

Among Friends there seems to be a greater openness toward recognizing our inner changes with changes to our outer names. Case in point is Sophie Del la Mar, who many of you may know as Marian Wisby. As part of her movement into a new stage of her life, and in recognition of her completion of her first half-century on mother Earth, she assumed her new name. Talk to her about the roots of the name - it's interesting and inspiring information.

Many changes, including a name change, have been part of the path of Elisabeth Seifert - now Elisabeth Monsma. She chose her maternal grandmothers name as preferable to that of her ex-husband. Her e-mail address is now emonsma@compuserve.com.

In a previous issue we noted that Elisabeth and Demi Miller had requested a clearness committee for marriage. They did meet with that committee and have this personal note to us regarding that experience:

"We would like to take this opportunity to express our deep thanks to our Clearness Committee, to our Quaker Meeting Community, and to our f/Friends for the spiritual nurture and support we have received over the past two years, as we have labored together for clearness in our leadings. While our original vision of long-term partnership leading to marriage has now been laid aside, we move into the future as loving friends and spirited dance partners. Such a transition would not have been possible without our mutual commitment to the clearness process and your unfailing support. We will both continue to regard Twin Cities Friends' Meeting and the FFD as OUR spiritual community, and we welcome your continued interest in our well-being."

As for important transitions, Jane Blount and Christopher Penney celebrated their marriage in August, 1997 (preventing Jane from attending the FFD annual meeting!). Jane shares the following news with us: "As for our names, neither one of us has changed a thing. But the subtly profound shift and deepening of our love and commitment to each other is magical, humbling and glorious. We feel greatly blessed to have such love and support from our family and f(F)riends."

David & Barbara Houghton are engaging in adventures of their own. They will be spending the fall semester of 1997 in Geneva, Switzerland, where David will be developing educational material on climate change to be used in 20 education/development centers in developing countries. The term may include visits to Costa Rica and Russia. They will spend the spring 1998 term at Clark Atlanta University, in Atlanta Georgia. David will have the experience of working with the faculty on an Earth Systems Science Curriculum which works with integrated sciences and interconnections. All these travels will surely enrich the Houghton dance repertoire, first in Europe (and perhaps Russia and Central America) as well as the time in the south, at a 96% black university. Throughout their travels you can email them at ddhought@facstaff.wisc.edu

Sandra Helpsmeet continues to enrich her movement repertoire in the area of Yoga. In October of 1997 she spent two weeks in Ohio studying Integrative Yoga Therapy. The course aims to enable the practitioner to use yoga to promote wellness and to heal a range of problems, whether physical, mental, emotional, and also as a spiritual practice.

Rosemary Coffey and Zig Dermer seem to have a problem staying at home in Pittsburgh for more than a couple consecutive days, so they seem to have found the perfect solution. They are scheduled to serve two years as caretakers (Friends in residence?) for the Honolulu, Hawaii Friends Meeting in July of 1998. The schedule is such that they will have but one month per year "off duty", which will obviously cramp the style of the globe-trotting couple. On the other hand, the posting has already enabled them to plan the month of the 1999 New Zealand tour, February being their designated free month. They will warmly (literally) welcome all visitors to their home away from home.

Denise Madland can't quite seem to keep her feet on the continent. She was part of the 1996 Kenyan tour, and fate seems to have decreed that 1997 would also take her to new lands. Due to the ill-health of the regular staff who would accompany social work students who would visit and learn about the social welfare institutions of Bangladesh, Denise was offered the opportunity of an all expense paid month long trip to one of the poorest nations of the world. After soul-searching and juggling, she found herself free and willing to go, and had perhaps the hottest month of her life! "It was also incredibly interesting to be surrounded by Muslims (no Quakers in sight). We were especially privileged to be invited into the Star Mosque, when non-Muslims and women are usually not allowed entrance. Dance and music were hard to find, since daily work to survive took precedence."

If you have news please either send or email it to the editor or to ffd@infinitejoy.com

Historical Perspective on the Friendly FolkDancers

---
Prepared by David D. Houghton · August 20, 1997
Noting that FFD has now been in existence for over ten years, it is appropriate to review the remarkable and unique achievements of the group. The group came into existence in 1986 when Quaker folkdancers in NYM were inspired to organize a group to travel into the eastern part of the U.S to help inspire Quakers there to come to FGC which was being held for the first time west of the Mississippi in Northfield, Minnesota. The experience of sharing dancing and fellowship with the eastern meetings was such a fulfilling experience in itself that the idea of sharing community with meetings through dancing continued.
Ten-day long tours, as well as shorter invisitation programs (minitours and programs), were then organized in each proceding year. The tours involved visiting meetings in an area, one each day for a week or more. In the period from 1986 to the present there have been a total of 17 full tours, 8 minitours, and numerous programs at Northern Yearly Meeting and Friends General Conference as shown in the listing below. The tours have taken the message of dancing to well over 100 meetings representing most sectors of the U.S. and to four foreign countries (Canada, England, Kenya, and Scotland). In this way there has been contact with most major branches of Friends in the U.S.: Unaffiliated, Conservative, Friends United Meetings, Friends General Conference (but not the Evangelical Friends of America) and with 23 yearly meetings in the world: Baltimore, Britian, Canada, East African-North, Illinois, Intermountain, Iowa Conservative, Kaimosa, Lake Erie, Malava, Nairobi, Nanbi, New England, New York, Northern, North Carolina Conservative, North Carolina FUM, North Pacific, Ohio Conservative, Ohio FUM, Pacific, Philadelphia, and the Southern Appalachian Yearly Meeting Association. Over 50 persons have been involved and over twelve of these persons have served in full leadership roles as coordinators.
Below is a brief summary of the tour and mini tour activity accomplishments of the group. The listing is in chronological order

| | | | | |
| --- | --- | --- | --- | --- |
| Year | TOUR | DATES | LOCATION | COORDINATOR/S |
| | | | | |
| 1986 | Eastern | 3/8-16/1986 | IL NJ OH PA | Ellen Brooks+Ann Friend+Mark Friend |
| 1987 | Midwest | 3/5-15/1987 | IA MN WI | Ellen Brooks+Ann Friend+Mark Friend |
| 1988 | New England | 3/3-11/1988 | MA NH VT | Ellen Brooks+Ann Friend+Mark Friend |
| 1989 | Pacific Northwest | 3/16-26/1989 | BC OR WA | Mark Friend |
| | Mini Tour | 5/13/1989 | Scattergood School (IA) | Ellen Brooks+Mark Friend |
| 1990 | Southeast | 2/22-3/4/1990 | NC | Mark Friend |
| | Eastern | 3/15-25/1990 | DC NC VA | Ann Friend+Ellen Brooks+Nancy Schofield |
| | Mini Tour | 12/8-9/1990 | Scattergood & Dubuque (IA) | Ellen Brooks +Dave Hackett |
| 1991 | England | 3/13-26/1991 | England | Mark Friend+Sandra Hansen |
| | Midwest | 5/17-24/1991 | IN IL WI | Ann Friend+Ellen Brooks |
| | Mini Tour | 6/8/1991 | Rochester (MN) | Bruce Cameron+Eli Waring |
| | Mini Tour | 6/28/1991 | West Knoxville (TN) | Sharon Bell |
| 1992 | Midwest | 3/6-15/1992 | IA MN WI | Ann Fisher+Ellen Brooks |
| | Eastern | 3/26-4/4/1992 | NY PA | Mark Judkins |
| 1993 | New York | 4/28-5/8/1993 | NY | Mark Judkins |
| | Scotland | 6/2-15/1993 | Scotland | Ellen Brooks+Dave Hackett |
| 1994 | Mini Tour | 2/18-20/1994 | Scattergood & Dubuque (IA) | David Houghton |
| | Southeast | 3/24-4/2/1994 | NC TN | Mark Judkins+Rosemary Coffey |
| | Southwest | 6/7-17/1994 | AZ CO NM | Ellen Brooks+Nancy Schofield |
| 1995 | Mini Tour | 2/18-19/1995 | Winona (MN) | David Houghton+Mark Helpsmeet |
| | Lake Erie Area | 4/13-22/1995 | MI NY OH ON | Mark Helpsmeet+Rosemary Coffey |
| | Mini Tour | 11/11/1995 | FCNL, College Park (MD) | David Houghton+Rosemary Coffey |
| 1996 | California | 1/25-2/3/1996 | CA | Jane Blount |
| | Kenya | 5/9-20/1996 | Kenya | Mark Helpsmeet+Rosemary Coffey |
| 1997 | Mini Tour | 2/22-23/1997 | Scattergood & Dubuque (IA) | Sophie Del la Mar+Sandra Helpsmeet |
Total of 18 major tours and 8 Mini Tours from 1986-1997!
Note on names: Ann Friend and Ann Fisher are the same person; Mark Friend, Mark Judkins, and Mark Helpsmeet are the same person; Sandra Hansen and Sandra Helpsmeet are the same person. 7
---
| | |
| --- | --- |
| Sharon Bell | sbelljzb@aol.com |
| Jane Blount & Christopher Penney | penneyc@cts.com |
| Ellen Brooks c/o Rob Horwich | ccc@mwt.net |
| Elizabeth Cave | elizcave@compuserve.com |
| Rosemary Coffey & Zig Dermer | rkczld@aol.com |
| Lyn Egolf | lyne@gapsa.stu.umn.edu |
| Mark & Sandra Helpsmeet | helpsmeet@usa.net |
| Preston Henke | prestonhenke@usa.net |
| David & Barbara Houghton | ddhought@facstaff.wisc.edu |
| Eric Houghton | ehoughton@etcconnect.com |
| Denise Madland | madlandd@uwstout.edu |
| Demi Miller | peersupport@waonline.com |
| Elisabeth Monsma (formerly Seifert) | emonsma@compuserve.com |
Officers
Ellen Brooks, Recording Clerk/Steering Committee, Route 2, Box 24C, Gays Mills, WI 54631, 608-735-4821
Zig Dermer - Steering Committee, 916 Bellefonte St., Pittsburgh, PA 15232, 412-682-0296
Mark Judkins Helpsmeet - Clerk/Steering Committee, 2550 Gregerson Dr., Eau Claire, WI 54703, 715-874-6646
Preston Henke - Newsletter/Website Editor, 1201 Meridian Heights Dr., #7, Eau Claire, WI 54703, 715-835-0696
Joseph Kieltyka - Steering Committee, Route 2, Box 130, Ettrick, WI 54627, 608-525-8948
Denise Madland - Treasurer, S5570 County Trunk B, Eau Claire, WI 54701, 715-839-7370
Demi Miller - Coordinator - England tour, 271 W. King Street, St. Paul, MN 55107, 612-224-0231
Elisabeth Monsma - Recording Clerk/Steering Committee,